Get Workplace Smart Lockers
DeBourgh's day-use smart lockers for workplaces transform your office into low-contact storage spaces with a simple user interface. There are many options available depending on how you'd like your staff to access their lockers, whether it's a phone, RFID card, or PIN code. These touchless and contactless lockers are especially ideal for high-density organizations.
Our smart workplace lockers will transform your place into a practical, appealing, and employee-orientedenvironment that maximizes your limited space. Take advantage of the efficiency that technology provides while retaining the longevity of all welded steel.That way you can always add to your system without having to replace the old one. DeBourgh's day-use lockers means you focus on your business instead of its workroom.
Flexible Workplace Lockers
Take the pain out of staff locker management. Employees can choose any locker they like while they are on shift. You can set up permissions from your admin portal without managing each locker. Leave tedious tracking of combinations and assignments in the past.
Choose what fits your workplace the best from wired or wireless systems, and access by phone, RFID card, or PIN code. These office lockers can often be used with your existing building credentials, so you know who accessed which locker and where. Free up space and allow social distancing with staggered schedules. It really is both flexible and secure!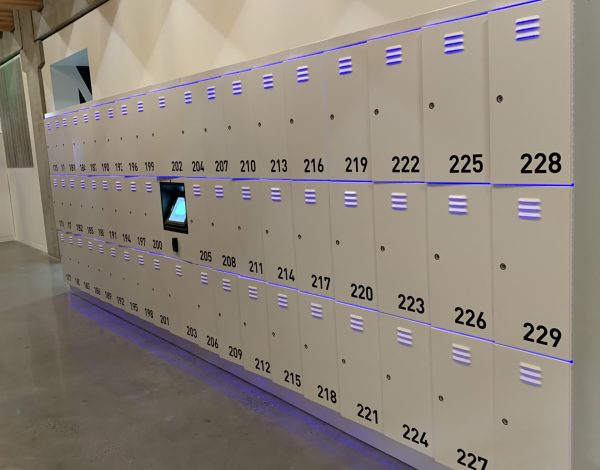 Workplace Smart Lockers: They Are More Than Just a Locker
Workplace lockers are so much more than just smart lockers, theysupply you withadvanced administrative functionality. They can audit and track expensive equipment. Their simple interface incorporates smart lock technology and software tailored to your company's workflow. Despite the range of options, every system is built with DeBourgh's high standard of quality, always giving you the benefit of:
User-Friendliness: Office smart lockers provide a streamlined user experience. You can access these lockers with your employee ID cards or a smartphone app. The smart technology of these lockers seamlessly integrates with existing access control systems, giving admin and users full control of these lockers at their workplace.
Flexibility: With a workplace smart locker system, staff can easily adapt to changing department needs. Administrators can change lockers from assigned to unassigned with just a click of a button. Organizations can decide how their employees can interact with these smart lockers. They can decide how to configure the system to best fit their needs.
Long Lasting: We used the experienced gained building traditional lockers for decades to create a design that will last with minimal maintenance. Protect your investment with lockers that work!
Personalized Design:You can customize the design and aesthetics according to your premises. You can choose the color, size, texture, and material as per your choice. These storage lockers come in multiple sizes and configurations. You can select the locker sizes that meet your needs.