FLEX HYBRID MATERIALS LOCKER
When you need something that looks top end without sacrificing durability, the Flex locker is for you. Using our classic all-welded steel unibody design with a door made from laminate or phenolic materials, you get the high-end textures and finishes of casework but on a locker that's designed to last a long time.
Flex lockers go great in fitness centers as well as corporate office spaces for staff lockers. They also work with several locking options, so you can choose high-finish locks for looks or functionality.
To view the complete line of door options available please click the link to the product brochure above.
We work with suppliers that give you several standard options on your door finish. Whether you want wood grain or specialty textures, we can usually find what you are looking for to get that clean, finished space you are working on.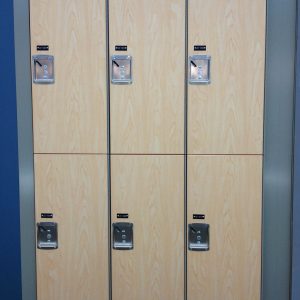 Flex still boasts our classic all-welded body, meaning it's designed to be there for the long term. Did your laminate door get damaged? It's easy to replace on the locker body that doesn't require maintenance. That peace-of-mind is luxury.
FLEX Fitness Specifications:
Locker Construction
All welded locker unit – no bolts, screws, or rivets used in assembly of locker unit
Locker body made up of 18 Ga. US Cold-rolled Steel
Features a 16 Ga. continuous piano hinge or hidden hinge.
Single point latch with slammable features. Digital locks also available.
 
Interchangable Door Options:
Metal door with Plastic Laminate skin.
Hardwood Veneer
HDPE High Density Plastic
Clear Polycarbonate
Additional Options:
All welded slope top with 25 degree pitch available
All welded, 4″ high, steel base securely welded to locker bottom available
Double ceiling hook of heavy duty forged steel standard; additional hooks are available