FLEX Elite Premium Team Lockers
Prices for wood and phenolic lockers for your top-tier athletic spaces making it hard to give your athletes the locker room they deserve?
We've combined strength of steel with the flexibility for anything accessory you need in your top-end athletic space. FLEX Elite is the perfect crossover locker product to impress and intimidate.
The FLEX Elite is a new generation of DeBourgh flexible materials so you can have the look and feel you require with the durability you've come to expect from partnering with DeBourgh.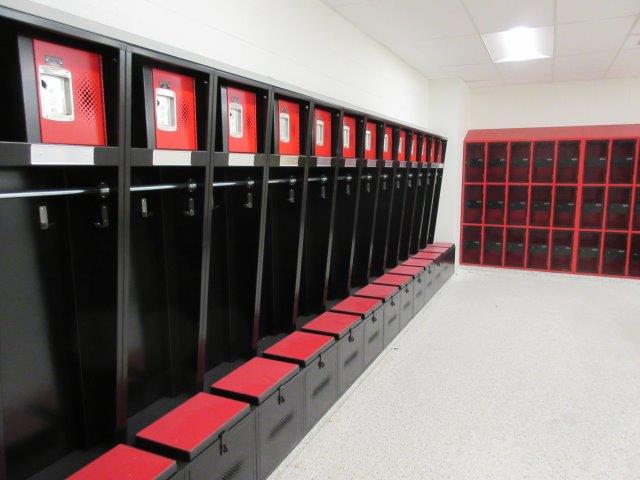 Get a high-end locker room without paying custom prices. DeBourgh's steel frame and optional laminate or phenolic features give you the best of both worlds and help keep your lockers in good shape for the long haul.
Flex Elite is prepared to bring a new look while upgrading your space. Bring power into your lockers for charging. High-end stainless steel door and hooks are just some of the key features which make this locker shine.
Optional bottom drawer and integrated bench give you form and flexibility in one durable package.
Flex Elite Specifications:
Locker Construction
DeBourgh-designed ICON seamless back frame for durable structure
DeBourgh-designed RAZOR cutback front frame – more room for arms and shoulders for your athletes
Power and LED lighting optional
Fully MIG welded bodies – no nuts, bolts, or rivets in locker structure
Flexible back textures – steel, ventilated steel, diamond plate, wood, plastic laminate, phenolic, or MDF core inserts
Security compartment with charging capabilities so your devices can be charged while you're on the go
Ventilated foot locker with reinforced seat or optional drawer or cubby
Optional shoulder pad and helmet rack
Personalized name plate holder or branded jersey hook
Solid steel, padded, phenolic, or wood seating with branding optional
Customized hook arrangement
Sturdy, all-welded base
State of the Art Powder Coat Finish
Lifetime Limited Warranty on all metal locker components