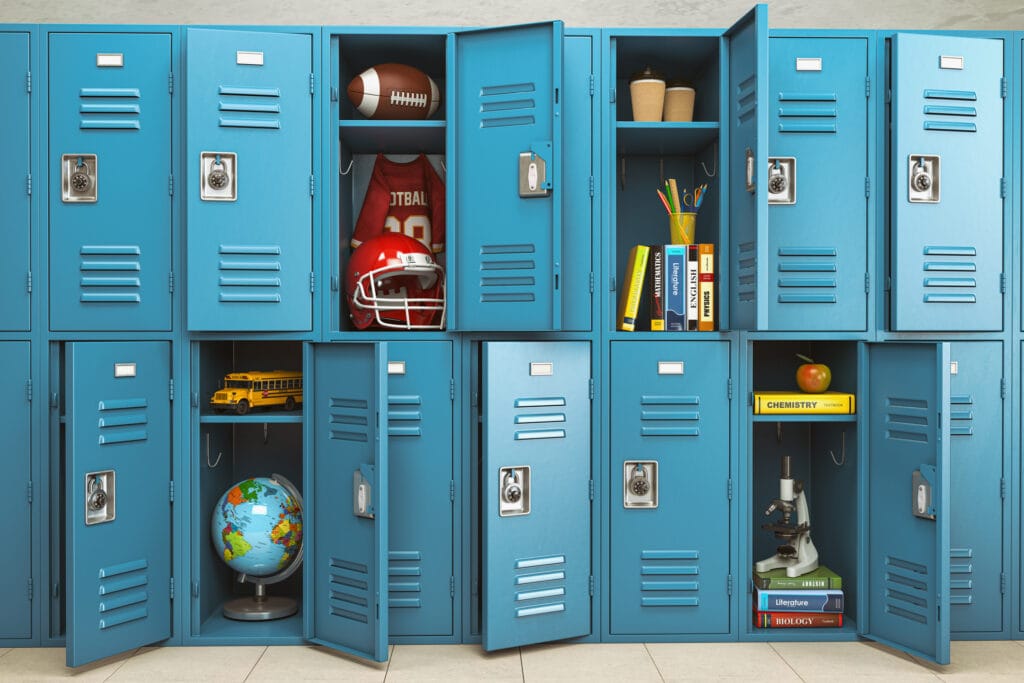 From elementary schools to universities, educational institutions fundamentally need secure storage. School lockers play a critical role in storing and safely keeping books, technology and personal property for students and staff alike. DeBourgh's maintains a robust line of secure storage for schools – from our classic Core and Rebel series to our Volta smart lockers – which can make a huge difference in achieving a secure, organized and productive learning environment. Here are six reasons why educational institutions around the country rely on DeBourgh school lockers:
1) School Lockers Support Student and Staff Safety 
The safety of students and staff in educational institutions is paramount. Secure school lockers are essential for storing personal belongings, devices, textbooks, and other valuable items that require safekeeping. DeBourgh's school storage solutions are guaranteed to work every time. This offers increased security and creates a safer environment for everyone on campus.
2) School Lockers Create an Organized Environment
Without adequate school storage solutions, classrooms and hallways can quickly become cluttered with books, bags, jackets, and personal items. By offering a designated storage space, school lockers help maintain a clean and organized environment, reduce tripping hazards, and make it easier for students to access what they need.
Moreover, with DeBourgh's intelligent school storage solutions, administrators can be more organized and efficient with the ability to reserve and restrict lockers and access usage logs in real-time.
3) School Lockers Promote Responsibility 
School lockers play an important role in teaching students how to be accountable. By having their own secure space, students are encouraged to be responsible for their belongings and respectful of other people's property. This is a life skill that extends beyond the classroom, preparing students to handle future obligations and responsibilities.
4) School Lockers Offer Privacy and Confidentiality
In universities, secure storage is crucial for safeguarding research materials, confidential documents, and personal belongings. DeBourgh's intelligent lockers provide options like enhanced security features to protect sensitive information and advanced asset tracking capabilities to maintain control over where assets are and who has access.
5) DeBourgh School Lockers are Adaptable and Customizable
When it comes to custom lockers, DeBourgh is second to none. Our engineers help bring your custom locker ideas to life, while saving time and money and optimizing space. Institutions can choose from a wide range of locker sizes, styles, colors, configurations, and technology options. This flexibility allows schools and universities to create storage solutions to suit their unique needs.
6) DeBourgh School Lockers Provide Longevity and Durability
DeBourgh designs, manufactures and installs welded-steel school lockers that are durable and long-lasting. This ensures that they withstand the wear and tear of daily use by students and staff. Our high-quality school storage solutions require minimal maintenance and our materials and processes come with a lifetime warranty, maximizing your return on investment. 
Secure school lockers are a critical part of educational institutions. By investing in high-quality lockers, schools and universities can create a learning environment that promotes what's important. Things like student safety, organization, responsibility, and confidentiality.
DeBourgh is a leader in school storage solutions. From traditional systems to advanced, intelligent options, DeBourgh's durable lockers are designed to adapt to the evolving needs of educational institutions. Our commitment to quality and security makes us a trusted choice for schools and universities across the nation.
Ready to invest in your educational institution with DeBourgh school lockers? Our locker experts can customize and install the right school storage solutions for your unique needs on time, spec and budget. Contact us today to learn more!